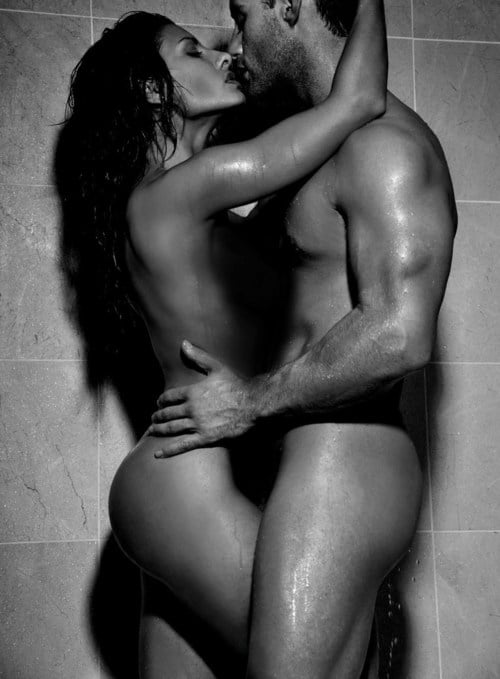 If you're in the mood for some naughty adult fun, shower sex is a great way to get clean while you're getting dirty! Wash. Lather. Repeat. However, unless you're blessed with a shower that's the size of a walk in closet, shower sex comes with some limitations and often feels like you're playing a human game of Jenga. For super hot shower sex that won't result in a head injury, follow these tips –
1. Lather up and take things slow – Instead of rushing into the main act, take your time teasing and tempting each other. Find a shower gel you like and using a loofah or shower sponge, take turns washing each other. When you finally make skin to skin contact it will be that much hotter. Tip: Fellas, ask first before you lather up her lady bits. A lot of women are really sensitive to soaps and shower gels in their intimate areas (it can cause burning and irritation later on). Instead use a silicone based lube to get things going (see tip #3.)
2. Bring a toy – Loads of sex toys are now waterproof – invest in one for shower time fun! Grab your favourite waterproof toy and use it on yourself while your guy watches. Alternatively, have him use it on you and see if he can distract you from your usual shower tasks 😉
3. Play with the shower head –  Ladies, if you've got a detachable shower head, spray it on your clitoris and other erogenous zones & show him how you like to get off then, have your partner so the same to you. The stimulation provided by shower heads can be incredibly intense. Watching her lose control will make him go bananas…in a good way!
4. Have him play with your breasts – Facing him, have him play with your breasts, either with his fingers or his tongue….or, drive him nuts showing him how you'd like to be touched. The sensation of touch plus the warm water will feel incredible.
5. Put on the condom outside of the water – Because you can still get pregnant or get an STD in water, you should always practice safe sex, even if you're in the shower. However, not only is putting on a condom underwater extremely difficult, it can cause water to seep in, making the condom more likely to slip off. Putting a condom on properly while on "dry land" will help minimize this risk.  If you're planning on having sex, keep condoms on hand and take a step out of the shower if needed to get suited up. Now you're ready for the games to really begin!
6. Use a silicone lube – When you think of hot sex, the words "slippery" and "wet" definitely come to mind – especially when you're talking about sex in the shower. However, sex and water don't naturally mix. Having sex in water can actually create more friction that normal. Although most condoms come lubricated with a water based lube, sex in water can wash away the lubricant, making for a potentially uncomfortable situation.
7. Do it doggie style – He'll love the view he gets from doing it doggie style. Stand up straight with your hands against the wall and legs spread slightly. Your guy will enter you from behind. Make sure you aim your shower head as downward as possible so the water isn't hitting both of you directly in the face. That can be distracting and things will get really wet — not in a good way. He'll love the view he gets doing it doggystyle while the walls of the shower give you both support and leverage.
8. Sit down – Have him sit down with his legs stretched out or slightly bent at the knee if he's tall. Straddle him and go to town. Ladies, while you control the depth of penetration, the water hitting your back lightly will feel extra good. Plus, this sex position is relatively secure, therefore minimizing the risk that one of you will slip in the tub. 

9. Standing straight – For another shower friendly sex position, stand up straight with your back againt the wall, lift one leg up and wrap it around his lower back. Tip: It will be easier for him to have full control if he presses his hands against the wall you're leaning on.
10.  Dry each other off – Gently dry each other off while caressing each other's bodies. Men, apply lotion to your lady, massaging it gently into her skin. All of this sensual contact is the perfect prelude to round-two!
(photo via weheartit.com)
Looking for dates in Cornwall? Double your chances and meet Cornwall singles today.
Save