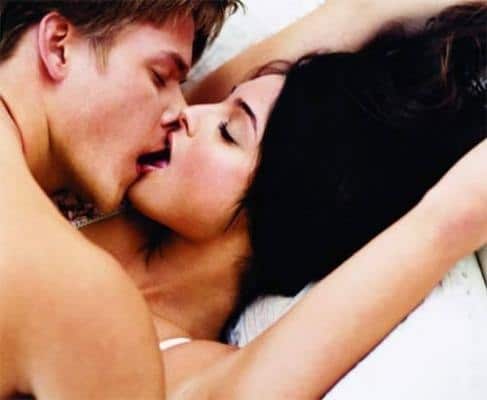 (source)
Alright everyone, it's time to confess. Who here has made a sexy playlist in hopes of getting it on?
You go back to your place "for a drink" and say you'll be right back because you're going to put on some music because you "just like the background noise". The first song kicks in and your drinks are going back a little faster. During song two, you move a little closer. Song three has you making out and tearing off your clothes on the way to the bedroom.
In case you need a little inspiration for the weekend ahead, here's a few songs to get your sexy playlist started:
Slave for You – Britney Spears
This song (and video!) is so hot. It makes you want to sweat in a very good way. Plus, the title can give you some fun ideas 😉
One in a Million – Aaliyah
If this song isn't one of the sexiest songs ever I don't know what is. It just makes you want to take off your clothes. The beat is hot and I'm sure the sex will be too!
Sexual Healing – Marvin Gaye
Now a list about sex songs just wouldn't be complete without a little Marvin Gaye. And really? Who doesn't want sexual healing? That's the best kind of healing in my book.
What Goes Around…Comes Around – Justin Timberlake
Okay, now yes this song may be about betrayal and cheating and all of that. But. BUT. It's just a sexy sounding song and think about Justin. Mmmm, Justin. This song proves it's not always about the lyrics!
I'm Goin' Down – Mary J. Blige
Sing it, girl! Again, the lyrics might not be the most appropriate, but I'll be damned if it doesn't give me chills every single time I hear it. And who doesn't want to feel chills and shivers during sex?
Criminal – Fiona Apple
"I've been a bad bad girl". Yes, yes, you have, Fiona and we love it. This songs gets you in the mood and those panties dropping.
Why don't we do it in the Road? – The Beatles
Just thought of doing it in the round sounds incredible. A little bit risky and a whole lot fun. The Beatles hit it just right with this song.
Everything in its Right Place – Radiohead
This one is just perfect. Who cares what it means – it sounds amazing. It'll totally keep the mood going. Thome York helps get it done.
Bump n' Grind – R. Kelly
I don't see nothing wrong with a little bump and grind – We don't either R. Kelly. Some of your other sexual antics may be a little questionable, but some down and dirty bump and grinding is always great.
Harder, Better, Faster, Stronger- Daft Punk
Do I even have to say what this song spells out for sex? If you've got that marathon sex going, this will be the best song. I mean, it even tells you what you need to be doing – harder, better, faster, stronger!
Doin' It – LL Cool J
Oh, the ladies do love Cool James. And with lyrics like "I wanna knock your block off, get my rocks off. Blow your socks off make sure your G spots soft" we can totally see why.
Pony – Ginuwine
Remember back in the day when you'd see this music video and Ginuwine abs? Yeah, that. "Girl when I break you off
I promise that you won't want to get off". Giddy up and ride it.
Let's Get it On – Marvin Gaye
Do I even need to say it?
Alright, did that get you going? (in more ways than one?) I hope so!
Now dish – what's on your sexy song playlist?
Looking for dates in Glasgow? Double your chances and meet Glasgow singles today.
Save