We've all been through the basic sex positions (hopefully, more than once!), you now need to move on to the more advanced positions to keep your partner happy. From Penis Shape to the Wild West we have it all covered, discover what your style of sex says about you.
What Do Sex Positions Say About Us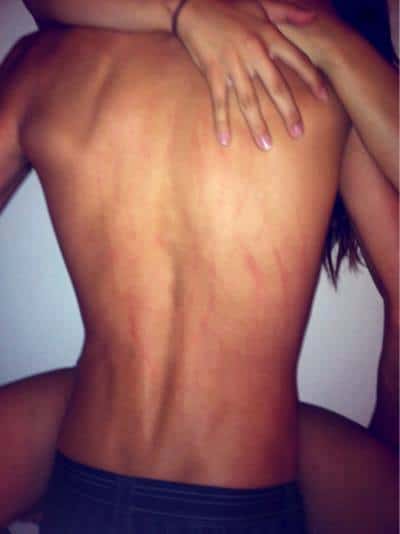 Missionary
Ah, the old stand by. If your favourite sex position is Missionary, you're probably comfortable with intimacy. You may be nervous about trying new things, or you may be of the "if it ain't broke…" persuasion. If you want to mix things up, try Nirvana, where the receiving partner lies with his or her legs together. For something that requires a bit more flexibility, there's Bandoleer, where the receiving partner bends his or her knees to her chest and rests his or her feet against the penetrating partner's chest.
Doggie Style
You appreciate what feels good and you're not afraid to get a little rough. This position lends itself well to dominance and submission play, but can be very intimate as well. If you want to mix things up, try having the receiving partner lay flat, legs either together or spread. Or, find a piece of furniture suitable for leaning over, like the arm of a sofa. The world is your Doggie Style oyster, my friends!
Receiving Partner on Top
If you're the receiving partner and you like it on top, then you obviously love to take control and don't mind taking your pleasure into your own hands. Well done! If you're the penetrating partner and prefer your receiving partner on top, you like giving up a little control, and you probably enjoy the view. To mix things up, try turning the receiving partner so he or she is either facing backwards or sideways.
Sixty-Nine
If your favourite position is Sixty-Nine, then you are a fine multi-tasker! You're capable of enjoying yourself while also focusing on someone else's needs. If you want to mix things up, try lying on your sides or giving anilingus a try.
Solo Masturbation
If your favourite sex position is a party of two, with you and your favorite toy, you are probably a fairly introspective person. You know yourself and what feels best. Ain't nothin' wrong with that.
---
Want to learn EVEN more, then carry on reading for our great selection of Sex Positions…
5 Awesome Sex Positions For Different Penis Shapes
Amid the pressure to be big, we often forget that really, every penis is a great penis. Different shapes, girths, lengths, and curves are great in a variety of different positions. If you want to maximize what you've got, these suggestions for positions corresponding to your "penis type" should help. (Note: This list is catered to heterosexual couples.)
1. Long
Have you had difficulty in the past finding a position that was comfortable for your partner, without hitting her cervix? Shallower penetration can feel great for both of you. Try spooning – it's a great way to feel closer to your partner, and with your longer member, you should have no trouble reaching her G-spot. Longer penises also lend themselves nicely to positions where the woman is on top, letting her control the depth of penetration and giving you a great view.
2. Short
Those with shorter penises have a great advantage when it comes to missionary and doggie style, because you're less likely to hit the cervix. The first few inches of the vagina are the most sensitive, so don't underestimate yourself, especially with these two penetration-maximizing positions.
3. Curved upward
A penis with an upward curve is phenomenal for G-spot stimulation in missionary, cowgirl, and any other position where partners face each other. If your shaft is average or shorter, try missionary or a variation where the woman's legs are up over your shoulders. If your shaft is longer, try letting your partner ride you.
4. Curved downward
Much like an upward curved penis, the downward curve is great for G-spot stimulation. In fact, Doggie style can feel particularly great if your shaft is average or shorter. For a longer shaft, try spooning.
5. Thinner shaft
If you have a thinner shaft, it can feel amazing for both you and your partner if you enter your partner while her thighs are pressed together. By your partner pressing her thighs together, she effectively narrows the vaginal canal, giving you both a fuller feeling. Try it doggie style (your legs form an upside-down V while hers are held together), spooning, or for those who are really flexible, with a variation on missionary where her thighs are pressed together and her knees are brought toward her chest.
---
5 Tips for Super Hot Doggy Style Sex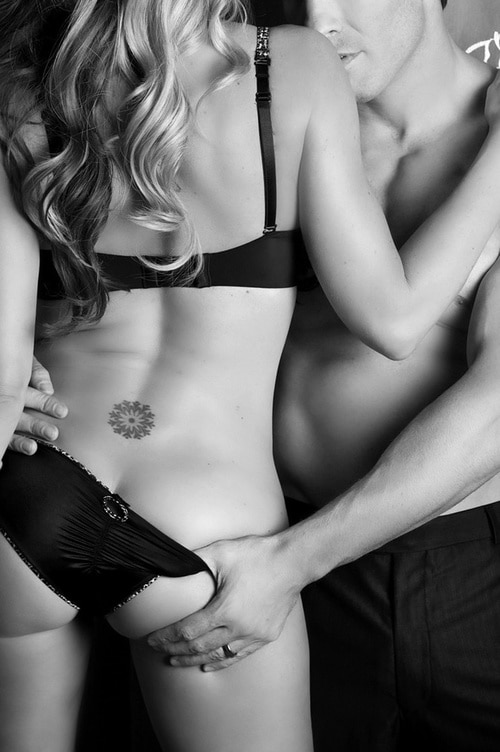 Doing it doggy style can definitely be super sexy. However, although a lot of women love doggy style, it tends to be a position that guys enjoy more. For the ladies out there, here are some expert tips that will make doggy style even hotter & more pleasurable for you –
1. Use your vibe
A large percentage of women can't orgasm with penetration alone. Doggy style isn't the best position for clitoral stimulation. Also, your guy can get so wrapped up in the sexiness of the act that he forgets to stimulate your clit. The answer? Whip out your vibrator! You'll get off and your guy is sure to enjoy the extra vibrations (& moans of pleasure!)
2. Use a towel or a sex strap
When he grabs onto your hips it can hurt – especially if he has an iron grip. The solution to this? Hand him a towel. Loop the towel around your hips and have him hold onto the ends. Alternately, look into purchasing a sex strap from your favourite adult product retailer. Basically, what this consists of is a silky piece of fabric with hand grips that works the same as a the towel trick.
3. Communicate
Because it's easy for guys to get a bit self involved in this position, make sure you speak up and communicate about how you're feeling. If something doesn't feel good – for example, the penetration is so deep it's actually painful – say something! Also, if you love what he's doing, give him some positive words of encouragement ("Oh yes, that feels amazing!") Trust, us he'll appreciate the feedback if it means he's helping you enjoy the experience too.
4. Grab a pillow
Place a pillow under your hips while your guy thrusts into you. Not only will this tip your hips up in a away that makes it easier for him to hit your spot, by moving your hips into the pillow you'll also get some clitoral stimulation. For some oh-my-god-thats-good feelings, slide a small vibe down there & enjoy pleasure from all angles!
5. Slow down & get close
The urge to jackhammer you in this position is strong – which, isn't always the most pleasurable for women. To avoid this, get in really close. Try positioning yourself so that your back is pressed right against his stomach and have him hook his hands around your waist. It's hard to go super fast when you're in this position. Not to mention, the skin to skin contact feels amazing 🙂
(photo credit: weheartit.com)
---
Sex Positions for Mind Blowing Orgasms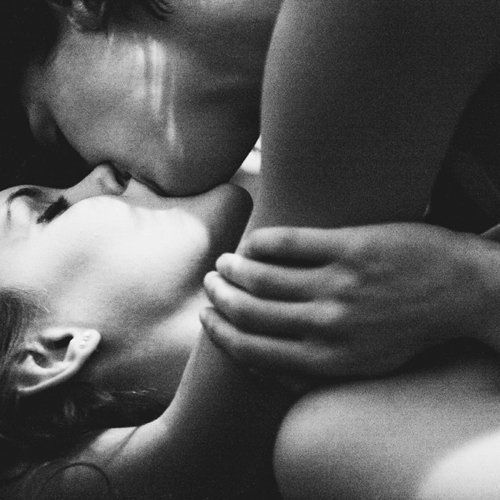 Sure the usual standby sex positions like missionary, cowgirl and doggystyle work for many of us. However, if you've noticed they don't really do it for you or you're looking to switch things up and take your sex life to a new level, it might be time to try some new positions. We love these super hot sex positions that we found on SheKknows and decided to share some of them with you. Even if they don't all work for you, half the fun is in trying! 😉
1. The Butterfly or Modified Missionary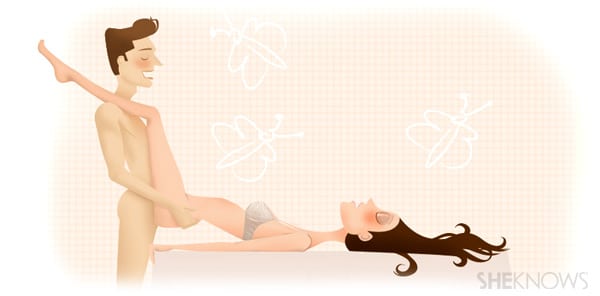 How to – With the woman on her back and her hips on the edge of the bed, the man penetrates her while standing. She then puts her legs over his shoulders and tilts her hips slightly upwards.
Why you'll like it – If you enjoy really deep penetration, this is a great position for you. The Butterfly gives a wonderful angle for cervical stimulation with deep penetration that can produce some intense vaginal and uterine orgasms. With more shallow penetration, a man can stimulate the anterior vaginal wall to hit the G-spot. You also get the added benefit of lots of sexy eye-contact and a full view of your partner's body!
2. Modified Missionary Alignment
How to – A couple starts off in missionary position. Once a man penetrates a woman deeply, he allows her to bring her legs together between his. He then shifts his weight slightly forward so that the shaft of his erection is producing firm pressure and friction on her clitoris as he moves.
Why you'll like it – This position is perfect for a woman who prefers to have some clitoral stimulation during penetration to get her off. The simple tweak on missionary is super easy to manoeuvre – in other words, you don't need to be a yogi or a gymnast to pull this one off…and hopefully have some really great orgasms together!
3. The Seated Scissors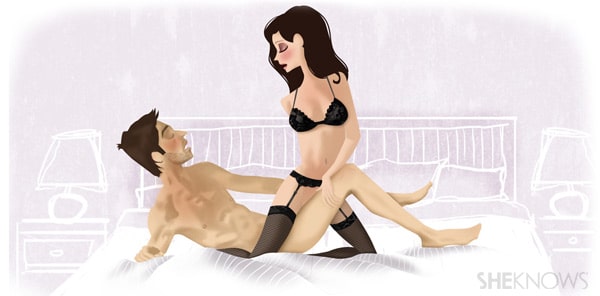 How to – This one looks like a lot of fun! With the man laying flat on his back and his knees bent, she straddles him with one leg to the side of his hip, and the other leg between his legs.
Why you'll like it – This position is awesome his position allows the woman to have the control in order to determine the depth and angle of penetration, as well as how much clitoral stimulation she gets. With this position, the woman can then find just the right spot to grind against his pubic bone with him inside her. She controls the pace, the depth, and the amount of pressure and friction she receives. In other words, with this much control it's basically a recipe for some mind blowing orgasms!
(All photos via Google and SheKnows.com)
---
What Is The Most Popular Sex Position?
We've asked many readers and followers to weigh in on this very important subject…sex positions! We wanted to know what positions people can't get enough of, and which ones should be retired. Instead of just writing up the survey responses, we've created the following infographic. Check it out and see where you fall on the sex positions roulette table, the answers might surprise you-they certainly surprised us!