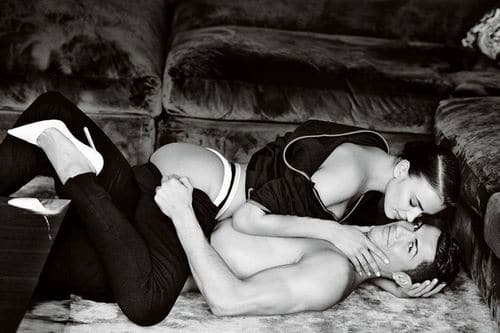 Theres no doubt that the prevalence of anal sex among heterosexual couples is rising. In 1992, a study of men and women in the United States revealed that 26% of mean and 20% of women reported ever having had heterosexual anal sex. By 2005, those numbers were 40% and 35% respectively. Thinking about trying anal sex (or enjoying more of it)?! Here's a few things you should know before you get down to it.
1. The anus and the perineum are both extremely rich in nerve endings regardless of your sex or gender.
2. Whether you're on the giving or receiving end, enjoying anal sex doesn't make you gay (as one of our favourite bloggers Redhead Bedhead notes, if that were true, it would mean that "eating tacos would automatically make you Mexican" – when you look at it that way, it just doesn't make sense!) If you enjoy anal sex it just means that you enjoy the pleasure of stimulating all of those wonderful nerve endings located in that part of your body.
3. You should never insert anything without a flared base or a safe retrieval ring into your bum. People end up in the ER all the time with things lodged in their rectums. Stick to items that are specifically made for anal play by companies that are worthy of your trust. I recommend Tantus or BS Atelier for silicone plugs.
4. The anus shares a wall with the prostate and the G-spot. This means that anal sex or stimulation can simultaneously stimulate the nerve endings in the anus itself and the P- or G-spot.
5. Oil-based lubricants get a bad rap because they're not safe with latex condoms, but they are perfect for anal play. If you want to use toys, oil-based lubes are safe with silicone, glass, ABS plastic, and surgical steel. Want to have anal sex using condoms, but still want the benefits of oil-based lube? Choose a polyurethane condom like Trojan Supra.
6. Start small, then go big. It's important to get your bum used to penetration if you're not already. Start with a finger or a small plug, and work your way up slowly.
7. Never use a toy in the vagina that's been in yours or your partner's anus. You can go from vagina to anus, but never from anus to vagina.
8. Don't use numbing sprays, creams, or lubricants. If you can't feel pain, you won't know when to stop. Plus, you won't get any of the pleasure that's you're meant to. Listen to your body and put away the Anal-Eaze.
9. When you're inserting a plug, it may seem logical to lie on your back. It can actually sometimes be easier if you lie on your side, and ask a partner for help.
10. If you want to try analingus (oral sex on the anus), remember to use a barrier device. If you don't have access to dental dams, you can easily make your own. Cut off the tip of a condom, then cut a slit up one side. Unroll, and you've got a dental dam. You can also cut the fingers off of a latex or nitrile glove, then cut the palm in half. Additionally, plastic wrap that's not made for use in the microwave is a safe substitute.
Go forth and get it on!
Looking for dates in Cambridgeshire? Double your chances and meet Cambridgeshire singles today.
Save