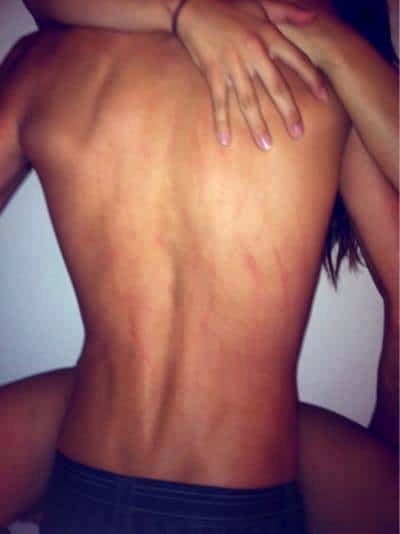 Note: The receiving partner is the one being penetrated, whether with a penis, a dildo, or a strap-on. Inclusivity is sexy.
Missionary: Ah, the old stand by. If your favourite sex position is Missionary, you're probably comfortable with intimacy. You may be nervous about trying new things, or you may be of the "if it ain't broke…" persuasion.  If you want to mix things up, try Nirvana, where the receiving partner lies with his or her legs together. For something that requires a bit more flexibility, there's Bandoleer, where the receiving partner bends his or her knees to her chest and rests his or her feet against the penetrating partner's chest.
Doggie Style: You appreciate what feels good and you're not afraid to get a little rough. This position lends itself well to dominance and submission play, but can be very intimate as well. If you want to mix things up, try having the receiving partner lay flat, legs either together or spread. Or, find a piece of furniture suitable for leaning over, like the arm of a sofa. The world is your Doggie Style oyster, my friends!
Receiving Partner on Top: If you're the receiving partner and you like it on top, then you obviously love to take control and don't mind taking your pleasure into your own hands. Well done! If you're the penetrating partner and prefer your receiving partner on top, you like giving up a little control, and you probably enjoy the view. To mix things up, try turning the receiving partner so he or she is either facing backwards or sideways.
Sixty-Nine: If your favourite position is Sixty-Nine, then you are a fine multi-tasker! You're capable of enjoying yourself while also focusing on someone else's needs. If you want to mix things up, try lying on your sides or giving anilingus a try.
Solo Masturbation: If your favourite sex position is a party of two, with you and your favorite toy, you are probably a fairly introspective person. You know yourself and what feels best. Ain't nothin' wrong with that.
Looking for dates in Derbyshire? Double your chances and meet Derbyshire singles today.
Save